Veterinarian in Fort Collins, CO
Compassion. Integrity. Competence.
Midtown Veterinary Medical Center is a private, woman-owned veterinary clinic in Fort Collins, CO. We provide excellent, affordable care for dogs and cats, helping to keep them healthy and happy throughout their lives by encouraging strong bonds between pets and their people.
At MVMC, our close-knit team of dedicated professionals provides exceptional service in our newly-renovated, state-of-the-art facility. We stand ready to serve the needs of you and your pets for preventative and sick pet care.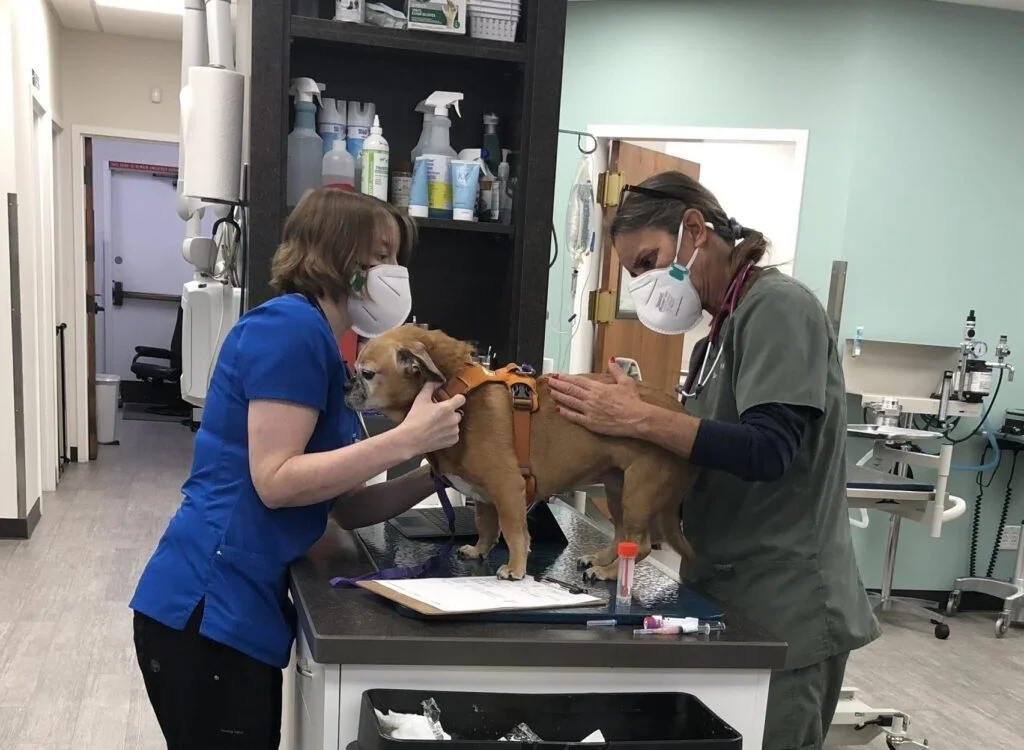 At Midtown Veterinary Medical Center, our priority is the health and wellbeing of every pet entrusted to our care. We prioritize peace of mind for loving owners. We offer all the preventative care services recommended to keep pets healthy throughout their lives including comprehensive annual wellness and bi-annual senior exams, vaccinations tailored to your pet's lifestyle, and laboratory screenings designed to catch disease early so that we can treat accordingly and prolong your pet's health, comfort and overall quality of life.
Learn More
When pets do become sick or injured, we have a full slate of diagnostics needed to discover the causes of illness, including digital imaging (radiology and ultrasound) and an in-house lab for quick diagnosis. We have facilities to hospitalize and care for sick animals during our open hours.
Learn More
We work with multiple mobile veterinary specialists who provide in-clinic consultations and care for our patients, including board certified specialists in radiology (ultrasound, echocardiogram), surgery, and internal medicine (consultations, endoscopy). These specialists collaborate with our veterinarians to offer comprehensive, advanced medical care and diagnostic testing for our patients in the comfort of our hospital.
Learn More
Our three doctors have over 40 years of experience between them and are passionate about caring for your precious furry friends and collaborating with you so that you have the information and recommendations you need to make the best decision for your pets.
Read More
Frequently Asked Questions
5 stars I happily stumbled upon Midtown! During the summer of 2020 when they sent an advertisement in the mail and I had my COVID puppy, Mango. Immediately I could tell that this was a fantastic establishment. Dr. McCarthy was amazing to Mango and so kind despite the tough environment of masking and outdoor examinations. We've been loyal clients since then. Later on I took in a senior cat from my parents and he was having some health issues and not wanting to eat. It was the first time we met Dr. Hunter and her compassionate demeanor and knowledge helped me feel better about my cat's bout of pancreatitis. Luckily he made a full recovery and I am so grateful! Dr. Hunter is one of the kindest most personable vets I've ever met and my dog and cat love to see her. I appreciate how she asks about how Mango is doing even if I'm at my routine visit with my cat Chandler. It shows that she actually does know her clients and who she's working with. When Mango hurt her paw and I was worried about the recovery, Dr. Hunter saw us again and didn't end up charging us for the visit because she confirmed it was healing properly and didn't need any more attention! I was expecting to pay an exam fee even if it was just for peace of mind but it meant the world to me that we didn't have to. The techs here are always so friendly, and I love chatting with Jane at the front desk. Dr. McCarthy has done an amazing job making this the best practice in town. I always recommend it to friends when I can and completely trust McCarthy and Hunter with my babies!

Natalie P
stars I absolutely love this vet clinic! I drive 45 minutes from my house just to go to this location. The staff is incredible and are so sweet and kind with all the fur babies I've brought to them. Even my older dog who has some trouble around new people loved them! Everyone from the front office staff, the techs and the Vet's have all been kind, helpful and informative with us. One of our animals had to have a routine surgery done, ended up having a complication and they made a judgement call and did extra testing and monitoring of him to make sure he was safe and didn't charge us a dime for it. Once he was stable they called me right away and gave me updates and even texted me pictures of him to show me how he was doing. I've had animals my whole life but I've never met a clinic where I feel like they treat my animals with the same amount of love as they would their own. I will never go anywhere else and I recommend this place to everyone I know! ❤️

Taylor K.
Great facility and wonderful staff! The best part is you won't break the bank bringing your pet here! Dr. McCarthy is amazing!

Laure Pagano
Thank you for helping Rossi on his first trip to the Puppy Doctor! We always knew Alfie was in great hands. We wouldn't have taken Rossi anywhere else! Glad to see you all are doing so well! Here's to more healthy check-ups!

Anoushir Mansouri
Ya'll only met Oso once, but the care and professionalism and compassion allowed us to spend a few more days with this buddy we loved so much. I included some pictures of Oso and the life he shared with us. Your fast care, quality diagnosis, constant follow up allowed us to give him the peaceful send-off he deserved. We will forever be grateful. I also foster for Bounce and have brought many foster dogs to you. At a time when so much in the world feels sad and angry, what a LIGHT ya'll are. Thanks again. I will continue to tell everyone who will listen how highly I think of ya'll.

Paige and Scott
First impressions are everything. I recently was teamed with my new service dog and I needed to find a vet that was close to me. I found Midtown very modern, very wheelchair accessible, great staff and highly professional vets. I was also surprised to find great prices which all added to a great experience. I found my new vet for my service dog at Midtown.

Akiji Koiwalakai
As a fellow veterinarian in the community, I have been blown away with the level of care, compassion and expertise at Midtown. I specialize in home palliative care and hospice now and my ability to to care for my own pets is a bit limited compared to when I was working in practice. Recently my older cat Sydney acutely became sick and Midtown was more than willing to fit her in same day even though I told them I could definitely take her in to an emergency clinic if needed. They were able to quickly perform in house lab work, radiographs, and organize a same day ultrasound. Dr. McCarthy even hand delivered a urine sample to CSU so we'd get urine culture results faster. Preliminary results from the tests were consistent with a severe kidney infection and they were able to start treatment right away. During Sydney's treatment over the coming days, I was able to meet and work with all of the doctors and they are all fantastic and caring. I received text messages with updates from the wonderful technical staff. Jane in reception was incredibly empathetic and also was quick to send invoices over to my pet insurance so I could get reimbursed. I am so glad Dr. McCarthy took the jump and opened this practice (right before COVID hit, I might add). It is an asset to the community and I'm grateful for all of the high level care they've provided to my pets. Thank you for everything.

Emilea Burton
Could not recommend more!!! Our dog struggles with being handled and they're always so patient and calm with her. I'd fully trust them with my dog any day. Such great attention and care. Cannot thank you all enough for your patience with Lory!

Lucy Falconer
According to the family who's farm I found him on he (McGregor) is officially TWO YEARS OLD!!!!! Without you all we never would have made it this far. From the absolute bottom of our hearts (to infinity and beyond), thank you all for everything you do. Without all of you and the incredible care you guys give to your patients, Gregs would not be here today
constantly gifting us rib cracking laughter with all his goofy, ornery shenanigans and larger than life personality. Thank you all for the kindness and compassion you have shown to us, and, I'm sure, all your other patients, too. If you guys are ever having a tough day please know the incredible (small, fierce and orange!) difference you have made in our
lives by doing what you do. You guys are all amazing and we will be forever grateful. Thank you guys for taking a chance on saving my little fighter even with all the odds stacked against him.

Lindsey & McGregor
My cat was terminal. The vet was direct and compassionate. The vets and staff were very understanding and helpful at this time. Highly recommend!

Darlene Wennersten
This is the best Vet office I have ever been to! I have never had a vet office be so personable with a patient-first attitude. Having a sick or injured pet is never a fun experience, but with Midtown I at least did not feel alone and anxious, I went home confident of our treatment plan and that my pet was going to be okay because of this awesome staff. Whether for last minute vet appointments or routine care, I highly recommend this office!

Hannah H.
I wanted to let you know how much I appreciate the wonderful care you have given to my Lhasa Apso Teddy Bear over these last couple years. It gives me peace to know that in the end he was treated with love and respect. I feel blessed to have found you early in 2020 and to have you care for his health in his last couple of senior years. The time spent discussing his health and making sure he lived the healthiest life possible was not lost on me. I appreciate you more than words can say. I also want to say thank you to Kassey for the big hug they day we learned of Teddy's failing health. More proof of just how wonderful and caring your practice is.

Elaine Hughes
Bring Your Pet in For a Checkup Today
Call Midtown Veterinary Medical Center at 970-305-5522 to schedule an appointment for your furry family members. Our goal is to ensure your pet gets the best treatment possible in Fort Collins.
Contact Us Today!