Veterinarian in Fort Collins, CO
Compassion. Integrity. Competence.
Midtown Veterinary Medical Center is a private, woman-owned veterinary clinic in Fort Collins, CO. We provide excellent, affordable care for dogs and cats, helping to keep them healthy and happy throughout their lives by encouraging strong bonds between pets and their people.
At MVMC, our close-knit team of dedicated professionals provides exceptional service in our newly-renovated, state-of-the-art facility. We stand ready to serve the needs of you and your pets for preventative and sick pet care.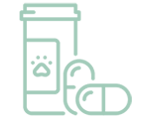 At Midtown Veterinary Medical Center, our priority is the health and wellbeing of every pet entrusted to our care. We prioritize peace of mind for loving owners. We offer all the preventative care services recommended to keep pets healthy throughout their lives including comprehensive annual wellness and bi-annual senior exams, vaccinations tailored to your pet's lifestyle, and laboratory screenings designed to catch disease early so that we can treat accordingly and prolong your pet's health, comfort and overall quality of life.
Learn More
When pets do become sick or injured, we have a full slate of diagnostics needed to discover the causes of illness, including digital imaging (radiology and ultrasound) and an in-house lab for quick diagnosis. We have facilities to hospitalize and care for sick animals during our open hours.
Learn More
We work with multiple mobile veterinary specialists who provide in-clinic consultations and care for our patients, including board certified specialists in radiology (ultrasound, echocardiogram), surgery, and internal medicine (consultations, endoscopy). These specialists collaborate with our veterinarians to offer comprehensive, advanced medical care and diagnostic testing for our patients in the comfort of our hospital.
Learn More
Our three doctors have over 40 years of experience between them and are passionate about caring for your precious furry friends and collaborating with you so that you have the information and recommendations you need to make the best decision for your pets.
Read More
Frequently Asked Questions
This is the best Vet office I have ever been to! At about 4:40 PM I realized my dogs paw was profusely bleeding due to a torn nail and required immediate medical attention. I was prepared to go to an emergency vet however was directed to try Midtown first. Even though they were almost closed down for the night they took us in last minute and saved us a lot of money! More than that, everyone in the office was so caring and helpful. Dr. Wahlquist sat with me one on one for a long time explaining what had happened, the procedure they were going to do, and how to care for him afterwards. Once we were home we got an incredibly detailed report of everything we had talked about because let's be honest, when our fur babies are hurt it's hard to think straight! Dr. Wahlquist even called the next day to check on us and make sure we were doing okay. I have never had a vet office be so personable with a patient-first attitude. Having a sick or injured pet is never a fun experience, but with Midtown I at least did not feel alone and anxious, I went home confident of our treatment plan and that my pet was going to be okay because of this awesome staff. Whether for last minute vet appointments or routine care, I highly recommend this office!

Hannah H.
I wanted to let you know how much I appreciate the wonderful care you have given to my Lhasa Apso Teddy Bear over these last couple years. It gives me peace to know that in the end he was treated with love and respect. I feel blessed to have found you early in 2020 and to have you care for his health in his last couple of senior years. The time spent discussing his health and making sure he lived the healthiest life possible was not lost on me. I appreciate you more than words can say. I also want to say thank you to Kassey for the big hug they day we learned of Teddy's failing health. More proof of just how wonderful and caring your practice is.

Elaine Hughes
First impressions are everything. I recently was teamed with my new service dog and I needed to find a vet that was close to me. I found Midtown very modern, very wheelchair accessible, great staff and highly professional vets. I was also surprised to find great prices which all added to a great experience. I found my new vet for my service dog at Midtown.

Akiji Koiwalakai
Used to take my dog Leo here when I lived in Fort Collins. The staff is friendly and helpful. The vet techs and vets themselves are incredibly helpful and knowledgeable. Couldn't recommend this place more.

Henry Dooley
Excellent practice. We have been bringing our new puppy here. All staff are friendly - from reception through to clinical staff. Would highly recommend.

Ellie S.
My cat was terminal. The vet was direct and compassionate. The vets and staff were very understanding and helpful at this time. Highly recommend!

Darlene Wennersten
Great facility and wonderful staff! The best part is you won't break the bank bringing your pet here! Dr. McCarthy is amazing!

Laure Pagano
Could not recommend more!!! Our dog struggles with being handled and they're always so patient and calm with her. I'd fully trust them with my dog any day. Such great attention and care. Cannot thank you all enough for your patience with Lory!

Lucy Falconer
Thank you for helping Rossi on his first trip to the Puppy Doctor! We always knew Alfie was in great hands. We wouldn't have taken Rossi anywhere else! Glad to see you all are doing so well! Here's to more healthy check-ups!

Anoushir Mansouri
Ya'll only met Oso once, but the care and professionalism and compassion allowed us to spend a few more days with this buddy we loved so much. I included some pictures of Oso and the life he shared with us. Your fast care, quality diagnosis, constant follow up allowed us to give him the peaceful send-off he deserved. We will forever be grateful. I also foster for Bounce and have brought many foster dogs to you. At a time when so much in the world feels sad and angry, what a LIGHT ya'll are. Thanks again. I will continue to tell everyone who will listen how highly I think of ya'll.

Paige and Scott
Bring Your Pet in For a Checkup Today
Call Midtown Veterinary Medical Center at 970-305-5522 to schedule an appointment for your furry family members. Our goal is to ensure your pet gets the best treatment possible in Fort Collins.
Contact Us Today!